AMS Trenchless have recently signed a second contract with Orsted to carry out Horizontal Directional Drilling for the landfall cables for the world's largest offshore windfarm – Orsted's Hornsea 2, which will power over 1.3 million homes.
AMS will undertake Horizontal Directional Drilling (HDD), a method of installing ducting and cables beneath existing infrastructure without disruption, at the landfall site in Horseshoe Point where the offshore cables meet the onshore cables.
This contract builds on the existing relationship between the East-coast firm and Ørsted, the world's largest offshore wind developer, following previous works for Hornsea Two's sister project, Hornsea One.
Hornsea Two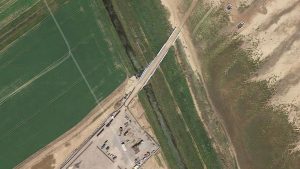 is in the early stages of construction, and when complete in 2022 it will be able to power well over 1.3 million homes, overtaking Hornsea One, due for completion next year, as the world's biggest offshore wind farm.
Duncan Clark, project director for both Hornsea One and Two, said: "We're delighted to welcome another UK firm to join us in building the UK's largest renewable energy project currently under construction. Lancashire-based VolkerInfra are installing the onshore cable, the onshore substation is being built by Balfour Beatty, and the fact that AMS Trenchless Specialists, who are based literally up the road from our onshore site, will be working with us again is a testament to their previous work on Hornsea One."
Using Horizontal Directional Drilling means that the cable can be buried underground without using trenches or disrupting the existing sea defences in the intertidal area, that links the offshore infrastructure with the onshore infrastructure.
George Aitkenhead, Managing Director, AMS Trenchless Specialists said: "We feel proud to again have the opportunity to work on a project that will make a significant difference to the UK's clean electricity system. HDD is a fast, efficient and environmentally friendly way to install this much needed infrastructure, whilst minimising disruption. It's great to see global firms, such as Ørsted, recognise our wealth of experience and continue place such big contracts with local firms like ours. For us, the offshore wind industry provides big opportunities in a market that is only going to keep growing."
This contract will be carried out by our new Prime Drilling PD250 RP/C
To read the ful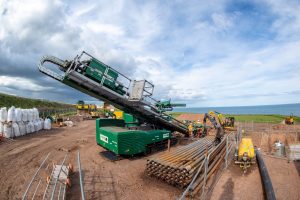 l Orsted press release, click here: https://orsted.co.uk/en/Media/Newsroom/News/2019/04/Scunthorpes-AMS-Trenchless-Specialists-wins-big-on-worlds-biggest-offshore-wind-farm-Hornsea-Two